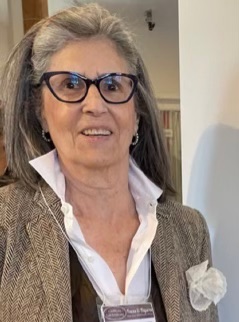 Barbara Shapiro is an Artist and Printmaker

Barbara Shapiro is a contemporary American painter and printmaker who works both on polyester film (know commonly as Mylar or Dura Lar) and various types of papers for her drawings and printmaking.
She exploits the characteristics of these diverse materials using combinations of acrylic paint, India ink, watercolor pencils, oil pastels, soft pastels and pasted papers on both her paintings and prints.
Born in New York Barbara moved to Miami Beach, Florida for her teen years, went to the University of Miami for her B.A. and then on to graduate school in Washington, D.C. to study for her Masters. She returned to New York where she became the Media Director of a NYC advertising agency, Director of Public Relations for a NYC museum (International Center of Photography) and spent the next 20 plus years in the world of Fashion and Beauty.
Her work has been exhibited in galleries in New York City, Westchester, NY and in Connecticut.
She is a member of the Center for Contemporary Printmaking (Norwalk, CT), the Silvermine Guild of Artists (New Canaan, CT), the Ridgefield Guild of Artists (Ridgefield, CT) the Katonah Museum Artists' Association (Katonah, NY), the Greenwich Arts Socierty (Greenwich, CT) and is an Exhibiting Member of the Rowayton Arts' Center (Rowayton, CT).
Her work is on loan to Westchester Community College and her printmaking was featured in the
Monotype-Monoprint
ezine.
Barbara Shapiro lives in Westchester, New York and works both there and in Connecticut.